JMI Medium Size Universal Wheeley Bar
May 9, 2019

JMI Medium Size Universal Wheeley Bar
$319.00
All Medium Wheeley Bars fit tripod tip-to-tip distance of 32.5 – 43.5 inches.
Tip receptacle is 2-3/4″ I.D. Will not fit tripods with feet larger than 2-3/4 inches.
The maximum weight for the tripod and telescope system is 70 pounds, consider the Medium Heavy Duty Wheeley Bars for heavier systems.
PLEASE ALLOW 1 WEEK FOR IN STOCK WHEELEY BARS TO SHIP! If some of your selected components are back-ordered, it could be longer!
Standard Package comes with 2-3/8″ Wheels and 1/2″ Leveling Screws.
Configure Your Package Below 
JMI Medium Size Universal Wheeley Bar
JMI Medium Size Universal Wheeley Bar creates an easy way to move mounted telescopes to and from observing locations. This is a customized model made to fit various mounts.  Available with Standard 2-3/8″ wheels, large 5″ wheels, or 10″ pneumatic wheels with tow handle.  Consists of a sturdy base with locking wheels and 1/2″ leveling bolts.  Easily move, lock and level the complete telescope assembly from location to location without the need to disconnect and reconnect all the electrical and computer cabling during transport.
Standard Wheeley Bars are designed to be used on hard flat surfaces only. With the optional 10″ pneumatic wheel and tow handle upgrade, with great care in maneuvering and ideal conditions, can be used on grass, dirt and gravel surfaces. Wheeley Bars are generally designed to be used with the tripod legs almost fully retracted to reduce the overall width.
Compatible with:
Celestron C4-R, C5-S, C5-SGT
Celestron C6-N, C6-R, C6-RGT
Celestron C8, C8-NGT, C8-S, C8-SGT, C8+, C8-N, C8-S
Celestron C9¼-S, C9¼-SGT
Celestron C10-N, C10-NGT
Celestron C11-SGT
Celestron C102-HD
Celestar 8
Celestron CG-4 mount/CG-5 mount
Celestron CG-9¼
Celestron CGE 800** / 925** / 1100**
Celestron Classic 8
Celestron CPC 800 GPS / 925 GPS / 1100 GPS
Celestron Fastar 8
Celestron G-8, G8-N, G-9¼
Celestron Great Polaris C8,
Celestron Great Polaris mount
Celestron NexStar 8 / 8 Evolution / 8 GPS / 8i / 8i (XLT) / 8 SE
Celestron 9.25 Evolution / 9¼ GPS
Celestron 11 GPS
Celestron Super C8 with adjustable tripod
Celestron Ultima 8 / 9¼ / 11
iOptron iEQ45 Pier mount
Losmandy GM-8
Meade 2080 and 2120 Fork mounts (except MTS) through LX200 7″, 8″ and 10″ (Ritchey-Chrétien, GPS and non-GPS versions) with standard field tripod
Meade LS-6 / 8, LT-6 / 8
Meade LX90-ACF 8″ / 10″
Meade LX90GPS 8″ / 10″
Meade LX200-ACF 8″ / 10″
Meade LX400-ACF 10″
Meade LXD55 AR-5 / AR-6 / SN-6 / SN-8 / SN-10
Meade LXD75 AR-5 / AR-6 / SN-6 / SN-8 / SN-10
Meade ETX-90EC and ETX-125EC with deluxe field tripod
Meade  LX10, LX50, LX90
Meade LXD500 / 600 / 650 mounts,
Starfinder German Equatorial 6 / 8 / 10
Orion SkyView Pro mount
Vixen Great Polaris mount
Great Polaris Deluxe mount
If you have any issues or questions while ordering, please email: [email protected]
** Celestron CGE mount may require Large Size Universal Wheeley Bars depending on the tip-to-tip distance.  It may also require the 10″ Pneumatic Large Wheel Upgrade (to lower the mount to an acceptable height).
Only logged in customers who have purchased this product may leave a review.
Package Includes:
Heavy-Duty Medium Size Universal Wheeley Bar
Standard Package includes 2-3/8″ Wheels and 1/2″ Leveling Screws
Other options can be configured
Product Specifications:
Maximum Load:  70 lbs
Adjusts to fit tripods with tip-to-tip distance from 32.5″ to 43.5″
See doorway measurements for more dimensions.
Tip receptacle is 2-3/4″ I.D. Will not fit tripods with feet larger than 2-3/4 inches
What is Tip-to-Tip Distance?
To be sure that your tripod or pier will fit a particular Wheeley Bar product, it may be necessary to verify the tip-to-tip distance of the mount.  Usually, this measurement is made with the legs of a tripod fully retracted (the shortest length) and spread out completely.  Alternately, you can measure at your preferred viewing height, but be sure to allow for the height of the Wheeley Bars (listed with each product).  The tip-to-tip distance is the measurement from the outside edge of the end of a tripod leg or pier foot (where it touches the ground) to the outside edge of another tripod leg or pier foot as illustrated below.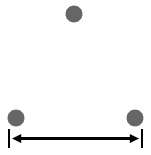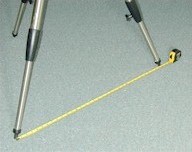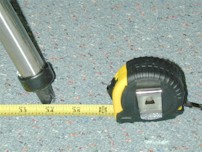 Here are some examples of different types of tripods and piers and where to measure.


Doorway Measurements
We often get questions regarding the width of our Wheeley Bars to determine if they will fit through a particular doorway.  The following information should help in making that determination.  The following dimensions do not apply to Wheeley Bars that have been upgraded with 10″ large wheels.  For Universal Wheeley Bars with the 10″ Large Wheel Upgrade the doorway width must be three (3)  inches wider than the tip-to-tip distance.
There are three basic measurements as noted above.  The maximum width (X) is measured in a similar fashion as the tip-to-tip distance except that the measurement is made to the outside corner of the legs or leveling screws (typically about 3″ wider than the tip-to-tip measurement of a pointed tip tripod mount).  The minimum measurement (N) is from the end of one leg to the inside measurement on the opposite side.  This would help in determining the narrowest door that the Wheeley Bars could possibly be maneuvered through.  A third measurement (W) is in between the other two and gives the width as measured from the end of one leg to the outside measurement of the opposite side.  The diagrams below illustrate the three measurements.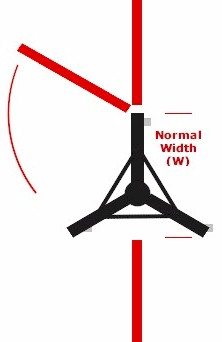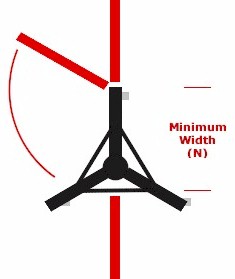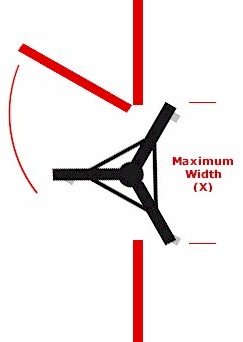 The illustration on the left shows the Universal Wheeley Bars turned so they can be pushed through the doorway based on the NORMAL width (W) without having to do any special maneuvering.  The second illustration shows the Universal Wheeley Bars being maneuvered by twisting them through the doorway based on the absolute MINIMUM dimension (N).  The third illustration shows the Wheeley Bars being blocked from moving though a doorway because they are positioned such that the MAXIMUM profile (X) is being presented.
Universal Wheeley Bars are called Universal because they are made to be adjustable to handle various sizes of mounts.  This means that the measurement we have been talking about can vary depending on the in-out adjustment of the Wheeley Bar legs.  The table below shows the minimum and maximum for the different widths indicated by the variable W, N and X.
Width Dimensions for Universal Wheeley Bars

Size

Normal Width
(W)
Minimum Width
(N)
Maximum Width
(X)

Min

Max

Min

Max

Min

Max

Medium

32″

36″

22.625″

25.625″

36″ 

41″

Medium HD

33″

40″

29″

34″

38″

47″

Large

44.75″

49.75″

36.5″

40″

50.5″ 

56.5″

Extra Large

 

 

 

 

 

 

Max

 

 

 

 

 

 
Selecting the Right Wheeley Bars
When deciding which Wheeley Bar model to purchase, there are several things to consider.  These include:
Type of equipment you will be transporting
Tip-to-tip distance of the tripod feet
Total weight of the equipment to be transported
Type of surface you will be moving the equipment over
TYPE OF EQUIPMENT
Dobsonian telescopes should use one of our Dob-style Wheeley Bars based on which Dob you have.  Telescopes with a tripod should use one of the Universal-style Wheeley Bars.  The size will depend on the size and weight of the telescope equipment (see below).
TIP-TO-TIP DISTANCE
The Universal-style Wheeley Bars show a minimum and maximum tip-to-tip distance for the tripod legs.  The best way to measure the tip-to-tip distance is to set your telescope up the way you would normally use it then measure the distance between two tripod feet.  Be sure to account for the height the Wheeley Bars will lift your equipment off of the ground.  Compare that measurement with the range shown for each size of Universal Wheeley Bars to match up with the best fit.  Custom Wheeley Bars are available for those that fall outside of all of the listed ranges.  For more information on how to make this measurement, see What is Tip-to-Tip Distance?
If you wish to move your telescope equipment through a doorway, see Doorway Measurements to verify whether you will be able to maneuver your equipment through a particular doorway (based on the size of the Universal Wheeley Bars).
TOTAL WEIGHT
The Medium Size Universal Wheeley Bars are for small, lighter telescopes like a standard C8 that weighs less than 70 pounds.  If you have a telescope with tip-to-tip distance that falls into the Medium range but weighs near or over 100 pounds (total weight of all equipment) you should use the HEAVY DUTY Medium Wheeley Bars since they will support the weight much better.  If you are planning on adding any equipment to your telescope in the future (like cameras, guide scopes, etc.) you should take that weight into consideration.  Heavy Duty Medium, Large and Custom Wheeley Bars can carry up to 300 pounds.  We also carry Extra Large and Max Wheeley Bars for specific very large telescopes.
SURFACE
The standard 2-3/8″ wheels work fine if the surface is hard and flat, such as a gymnasium floor or smooth concrete.  If you need to move over concrete with cracks or seams (like sidewalks and driveways) or rough cobblestone-like surfaces, you should get the 5″ Wheel Upgrade as these will ride over these surfaces much better without getting stuck.  If moving over grass, dirt or gravel (or you just want a smoother ride) you should use the 10″ Pneumatic Wheels.  These wheels will travel over surfaces smoothly and not sink into cracks.  There are times when the 5″ wheels can be used on hard dirt, but if the weight of the telescope is more than 50 pounds, the 5″ wheels may dig into the upper layer of dirt and become hard to move.  For more information on the composition of the different wheels, see What Size Wheels Should I Purchase?
What Size Wheels Should I Purchase?
For hard surfaces, such as concrete sidewalks, with seams or cracks, the 5″ polyurethane wheels are best.
The large 10″ all-terrain pneumatic rubber-tire wheels are designed for field use on rough surfaces such as grass, dirt and gravel.  However, great care must be taken in maneuvering on these surfaces, particularly when wet, because the wheels may sink below the surface.
We do not recommend using Wheeley Bars on these surfaces under adverse conditions, especially if you have a very heavy telescope.
Customer Comments
"Your dolly's fit the need perfectly.  Good workmanship.  My iOptron mounts love theses (as well as my back)."  (R. R. 08/03/2017)
"The Wheeley Bars with the large 5/8″ screws along with the heavier mount made all the difference.  My scope setup is now solid as a rock.  Thank you so much for helping me with the advice.  I never would have believed the mount and screws would have made that much difference but it does.  Thanks for making a superior mobile setup.  It is well worth the money!"  (F. G.  07/2017)
"…BTW, my wife and I love and appreciate JMI products (especially the Wheeley Bars—makes it easier for my wife to move her 10-inch dobbie!"  (M. H.  03/2017)
"…thanks so much for your voice mail, conversation and amazing customer service.  If you guys ever need a comment, endorsement, etc., please contact me.  (J. H. 03/2017)
"…that is more than fair and very much appreciated.  I guess that thoughtfulness is why JMI products and support are so widely respected."  (H. C. 03/03/2017)
"I am absolutely delighted with the [TPWLB12] Wheeley Bars as it makes movement of the telescope around the yard very easy.  For a telescope of this size I would not be able to use it to full advantage without the ability to move it easily both for observation and storage.  Thanks for a great product well worth it's price.  The quality of construction immediately made an impression while I was assembling it for use."  (P. R.  06/2014)
"Got the Wheeley Bars!  Fantastic high-quality product.  Machine work on every part is perfect and there wasn't a single part which I wasn't impressed with the sturdiness of.  Great product!!!!  Thanks."  (J. Z.  05/2014)
"My order for the Heavy Duty Medium Universal Wheeley Bars arrived today and I had to write regarding it because so much about the entire order impressed me.  Let me begin with the packaging itself.  I have not seen an order in many years that was so well packaged….  But the packaging was not the only thing which I was impressed by.  The design and workmanshipo is top notch….  (R. A.  09/2012)
"Just received your large Wheeley Bars and they are exceptionally robust, well-engineered and beautifully made!  They are exactly what I need to get more observing time and less set-up time."  (S. S.)
"I received my Wheeley Bars as ordered, thanks.  I just have to say that this has been the best accessory I have ever bought for my scope hands down.  I'm very pleased indeed.  It makes shifting and setting up my scope a breeze.  Thanks again.  (S. K.)
"Last June I bought your Wheeley Bars for my 16″ Meade LightBridge.  Needless to say, they have been fantastic.  I use the scope at least ten times as much now as I did before putting it on the Wheels.  Any time I want to observe, I just wheel it out of the garage and I'm ready within a couple of minutes!  No re-collimating needed!  Contrast that with moving the heavy scope out by hand in three parts, putting it together and re-collimating.  This process had been a real deterrent to using the scope—not to mention disassembling it at night, cold and sleepy.  I had considered spending $$$ on an observatory shelter but using the Wheeley Bars is so much better, and incredibly cost-effective.  But you know all this!  Your simple invention has re-opened the world of astronomy for me.  And my neighbors—any time it's going to be a good star night I send out an email and they come over.  Thanks again."  (T. P. W. Jr.)
"I have received my order [Wheeley Bars].  Your service was very good.  Much better than the servie I have had when purchasing other goods from the USA.  My advice to my fellow Astronomical Society members will be, if you can buy it from JMI, go there first."  (I. G. F-W., Australia)
"[I] Love being able to wheel my telescope in-and-out of the garage on a whim without having to wait for help to move it.  I'm a 5′-2″, 53-year-old grandmother who couldn't move the scope without help so this was just the ticket.  Ladies, you'll love it!  Also, you just leave it on there while you star hop.  The handle detaches so you don't fall over it in the dark….  Thanks JMI!!!"  (C. J.)
"I look forward to using my Wheeley Bars with my heavy telescope.  It is sturdy and well made."  (S. B. H.)
"Well, I must say the product was more than I expected.  Great work!!  After years of the electronic stuff I have gone back to a Dob and Your wheelies make it so easy!  Thanks!!"  (J. W.)
"REALLY like my Wheeley….  [My] C-102-HD is happy.  So is my hernia.  <G>"  (P. H.)
"I received a set of your Wheeley Bars….  I put it together this morning with no trouble.  This setup is the cat's meow and the elephant's PJs all rolled (pun intended) into one.  Now I can keep the scope up and easily accessible on a whim as my binocs.  How cool.  Thank so much."  (M. M.)
"I have a Meade 10" LX200GPS on one set of Wheeley Bars and a CGE on another set and absolutely love them.  It isn't just the weight  I can carry the mount in a couple of trips, no problem.  The really huge advantage of the Wheeley Bars is that I can leave the mount/tripod/electrical and computer connections (USB hub, power strip) all attached permanently on the Wheeley Bar setup.  I wheel out, attach one electrical connection (extension cord to the power strip), one computer connection (USB cable to the USB hub) and I am ready to go.  A huge time saver setting up and taking down compared to having to make multiple connections each time.  (D. S.)
"The materials used for the Wheeley Bars is excellent.  They have exceeded my expectations.  Good product."  (D. C. B.)
"The quality of the Wheeley Bars exceeded my expectations!  I assembled them easily and with no problems.  Good Job!"  (S. S.)
"The Wheeley Bars are one of the best products ever introduced to the Amateur Astronomer in history…  Your Wheeley Bars are exceptionally well designed for the price…"  (R. J. G.)